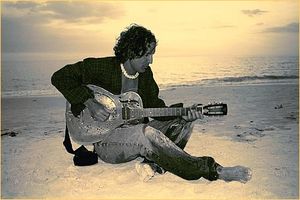 KRAIG KENNING
Singer Songwriter / National Slide Guitar Champion

Call him Contemporary folk, Acoustic blues, Roots rock, or American fingerstyle.  The fact is, Kraig has managed to merge a bit of all the above, while maintaining a close and personal connection with his audience. Kraig has played up to 200 dates a year touring the US for the last 3 decades, showcasing songs from his eight cds containing almost exclusively original material.
Kenning has shaped himself into one of the most capable performers on the planet.  "There is an exchange at a spiritual level in a great performance. My goal is to journey with all my listeners to this magical place." 
Kenning has inspired comparisons with Eric Clapton, Duane Allman, Bob Dylan, and Jackson Browne…to name a few. His finger picking often brings reminders of Kraig's long time hero Leo Kottke.  "His overall performance and presentation stand equal with any of today's top singer/ songwriters", states Dave Glynn of the Fox Valley Blues Society.  It's hard to be humble when elevated to the ranks of guitar gods and modern poets, but Kraig is quick to point out the logic behind such flattering comparisons: "Those are the guys I listened to, whose music I locked myself in my room with growing up. If I sound like any of them, it's because they were my inspiration and fueled my dreams."
A Kenning show is a guarantee.  Chicago Tribune reviewer Dan Kening (no relation) agrees, noting "Kenning's deft finger picking and slide work on acoustic and steel resonator guitar is truly impressive, but so is his flair for crafting intelligent, heartfelt lyrics and memorable melodies. Call his style laid-back music played with a burning passion." From his own perspective, a Kenning show is more like "a gift"…one that is both given and received. "What happens with an audience is like a little miracle.  It's awesome to feel their appreciation. It's amazing, like a circle of energy and I'm a messenger or supplier." 
 At National Guitar's 1st Annual Slide Competition, Kraig took first place honors as Best Unsigned Artist. He has opened for Mick Taylor of the Rolling Stones, and slide guitar master Sonny Landreth; and he has shared lineups with club and folk series favorites such as John Gorka and Patti Larkin. 
 Kraig has played some of the nation's largest, most respected music festivals, as well as classic clubs like the Vic and Fitzgeralds in Chicago. You might also find Kraig performing at traditionally smaller venues including public librarys state parks and dinner clubs. "The atmosphere is genuinely intimate, and fits my music and  lifestyle." 
 
Previous Performances:
Chicago Blues Fest. 
Mudbrick Studio. Mobile, Alabama. 
Gasparilla Art Fest. Tampa, Florida. 
Magical Moments. Redstone, Colorado. 
Bluebird Cafe. Nashville, Tennessee. 
Mission Point. Mackinac Island. 
Kenosha Public Library.
Tawas Blues Fest. Michigan 
Catfish Charlie's. Dubuque, Iowa. 
Canela's. Sonoita, Arizona. 
Millpond Music Fest. California  
Severson Dells. Rockford, Illinois. 
Marquette Blues Fest. Michigan.